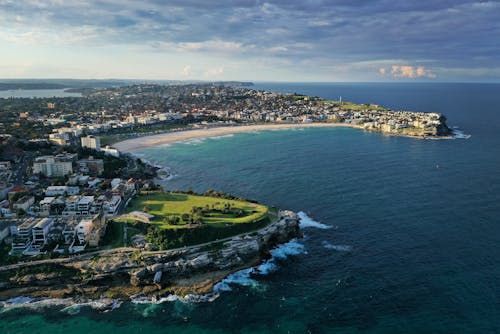 Over recent years, the Sydney property market has continued to boom across the city. House prices are reaching an all-time high, and many first time buyers are struggling to even get into the Sydney property market. There are many areas across the region where the median house price is well over $1 million. With several new government developments and infrastructure projects, particular suburbs in Sydney are set to boom. Investors who get in quickly could potentially see profits from their purchase in years to come as demand increases within these areas. Some of these suburbs to look into if you are looking to make the most out of Sydney's ever booming property market include the following. 
Kensington
Kensington is a suburb South-East of Sydney's Central Business District and is located in the City of Randwick local government area. It is only six kilometres from the city and is located near Randwick Racecourse and Moore Park. This area is expected to see the median house price grow with the introduction of the South-East light rail government project. This structure will see the demand for the suburb of Kensington grow for years to come as a result of its accessibility to the Central Business District of Sydney. 
Liverpool
Liverpool is expected to see a growth of the likes that Parramatta saw with government redevelopment and an increase in housing. There is currently a lot of demand for the area as median house prices are not extortionate and current infrastructure and facilities are readily available such as schools, shopping centres and restaurants. 
Balmain
Balmain has gained a reputation for having trendy boutiques, friendly pubs, amazing restaurants and great culture. It is an affluent neighbourhood, and it is only expected to grow in demand. The suburb is close to the city, and many Victorian buildings are features of the region. Locals love to go to the Saturday Balmain Markets to purchase organic produce, clothing, homewares and artworks.
Crows Nest
Crows Nest is quickly becoming an area known for its trendy nightlife and bars, its great restaurants and its family-friendly nature. The plan for a light rail available as of 2024 also makes this suburb a great area to invest in property. Crows Nest is set to become the next Newtown with its trendy vibe but offers a more family-oriented aspect. 
Lalor Park
Lalor Park is set to become popular with first home buyers as the median house price is quite affordable at $611, 000. It is still relatively close to the Central Business District, being between 20-30 kilometres from the city. The area features older homes with an average of three bedrooms and one bathroom.
Cammeray
Cammeray is located in the Lower North Shore and is a suburb reasonably close to the Central Business District of Sydney. The streets are fairly quiet, and there are a lot of trees and nature strips, making the area pleasant and green. Most homes in this area are double-storey or single-storey houses. This makes it a great area for growing families that have a reasonably high disposable income. 
Dulwich Hill
Dulwich Hill is expected to see tremendous growth in the coming years as the area becomes more popular amongst Sydneysiders. It is located in the Inner West of Sydney and features federation style buildings. The houses are larger in this area than many surrounding suburbs making it great for families. It is also becoming more popular with younger singles due to its increasingly trendy scene of bars and restaurants. 
Is now the right time to buy with current world events?
There is a lot of debate as to whether now is the right time to invest in property. The global outbreak of COVID-19 is expected to seriously affect the economy of Australia with the potential of many businesses being shut down and many people losing their jobs. Currently, the Reserve Bank of Australia has cut interest rates to an unprecedented low. The interest rate was set at 0.5 per cent as a direct response to the threat of COVID-19 to the economy. Industries such as the tourism industry, hospitality industry, education sector and accommodation businesses have lost significant revenue. Economic uncertainty causes people to panic and reduces their spending, which can further damage the economy. This interest rate cut is an attempt to encourage people to purchase property given the current climate. Many people are still panicked; however, at the fear of a potential lockdown to contain the virus. People are fearful for their jobs and businesses, making the economy unstable. 
Why would I invest in property at this time?
There are several reasons people may decide to buy a property during this time. The first would involve the particularly low-interest rates. This financial incentive may encourage people to purchase, even with current fears of a recession and potential job loss. During this time of uncertainty, people may choose to transfer their investment funds from stocks to the property market. The property market is often seen as a lot less risky than the share market. Therefore it might be a better option for investors. 
Areas to Avoid Investing In Currently
Due to international travel bans and social distancing requirements, universities have been severely affected by Novel Coronavirus. Rental properties and student accommodation have seen a decrease in demand as many Chinese international students were unable to return to Australia for their studies as a result of the Australian Governments restrictions and travel bans. As universities are put on hold, and the Novel Coronavirus situation continues to unfold, it would be unwise to invest in a property based on intentions for renting it out as student accommodation. 
All in all, only time will tell how the outbreak of Novel Coronavirus will affect the property market within Australia. It is safe to say, though, Sydney has constantly held a strong position within the Australian property market, and there is always a high demand in this area. If you are going to invest in Australian property, Sydney is the place to do it.